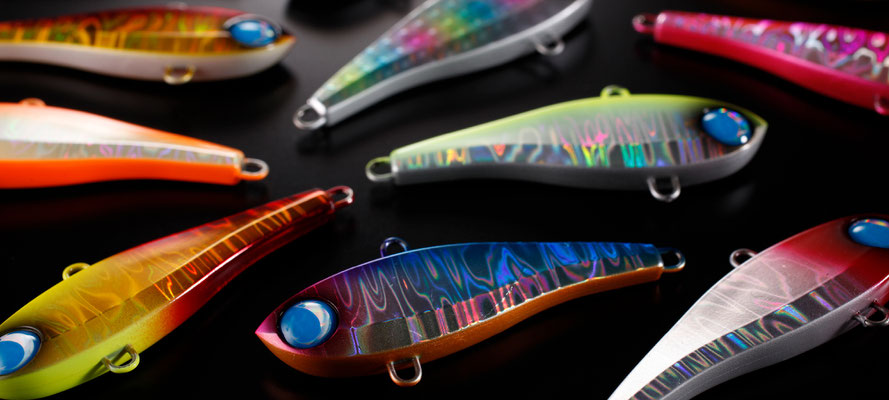 Chata Bee series

◆ Description ◆
The smallest model appeared in the popular ChataBee series!
Damage-free ABS integrated design.
We adopt strong hologram for exclusive use of plastic and special reinforcement painting.
You can adjust the action freely by adjusting the hook size from # 7 to # 10.
If you want a strong wave # 10.
# 7 if you want to refrain from action.
Capture the day game with the 50mm class top level flight distance and ChataBee action!
◆Spec◆
Length:52mm
Weight:8.5g
Type:Sinking
Action:High pitch vibration&Slide
Depth:80㎝~5m
Recommendation Hook Size:#7~#10 Ring:#3
Price:1,290Yen(without tax) made in Japan

◆ Description ◆
hatterby 60 with solid molding + penetrating wire that uses a light specific gravity impact resistant material that enables ultra-high response action.
Compared to Chatterby 52 and 68, the wider body design and lighter density material greatly improve the action response in the low speed range. We thoroughly pursued the ability to attract fish from a wide range and the ability to show and eat even the feet.
Supports a wide range of sea bass games, blackfin seabass, black sea bream & red sea bream.
◆Spec◆
Length:60mm
Weight:13g
Type:Sinking
Action:High pitch vibration
Depth:80㎝~5m
Hook:#8 Ring:#3
Price:1,380Yen(without tax) made in Japan

◆item description◆
ChataBee 68 offers a wide range of support from rivers and lakes, shallow seabass to salmon perch and persimmon to surf flatfish and has a great track record.
A specially structured vibration that is easy to use for anyone who is particular about medium to high speed action and response.
The common sense of vibration changes greatly by the ABS integral molding and the penetration wire design which were stuck to the world's highest level of breaking strength.
1. It is hard to break even if it is used around bridges of rivers and rivers.
2. Realize action that does not choose the field that can be done only by solid body of one-piece molding.
3. Safe even if you get extra large fish. If you wear a single hook, you will be able to face big KING FISH and tuna.
◆Spec◆
Length:68mm
Weight:15.4g
Type:Sinking
Action:High pitch vibration
Depth:1m~10m
Hook:Original #6 Ring:#3
Price:1,400Yen(without tax) made in Japan

◆ item description ◆
Designed specially for fishing in the open sea!Very effective vibration for Suzuki and various targets.Black fin perch, flounder, blue fish, red sea bream etcHowever, the vibrations present in the market are based on material and structure standards that assume a sea bass or river sea bass game.Well then, I can not fight big fish in the open sea.The intensity is weak and the target's favorite action is also different.ChataBee 85 is made with ABS integrated design that penetrates the strongest material SUS304 hard stainless wire.Achieves dimensions different from conventional vibration.And we thoroughly pursued the action favored by open-air targets and succeeded in combining overwhelming strength with the best action.ChataBee 85 has no blind spots.
◆ Spec ◆
Length: 85 mm
Weight: 31 g
Type: Thinking
Action: High pitch vibe & slide
Depth: 1~ 20 m
Recommendation Hook Size:#3/#4 Ring:Original #4
Price: 1,480 yen (excluding tax) made in Japan