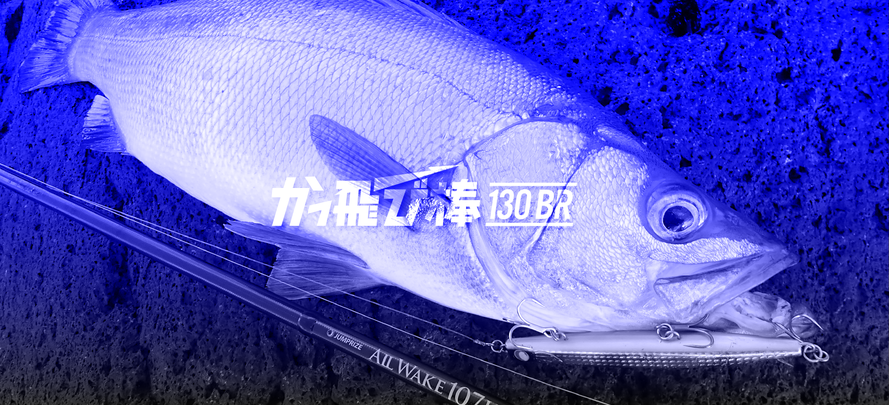 Sinking pencil series

◆item description ◆
Distance War Revolution!Unbelievable carry distance equal to 40g metal jig. A flight attitude with a sense of stability that is not influenced by the weather conditions.Weak action favored by clever open sea fish eaters.It invites a distant spot, which has conventionally only received metal jigs, to throw at 130 mm.It is this lure that realized such a dream-like concept.The fish caught in the test are sea bass, sea bass sea bass, Japanese flounder, sea bream, yellowtail, whitefish, yellowfin, GT ....How to use: Normal Retrieve, Drift Action, Skipping, Stop & Go.kattobi-bou130BR ... It is a revolution of the open sea shore game.
◆ Spec ◆
Length : 130 mm Weight : 38 g
Type : Thinking
Action : W variable rolling swing + back roll fall
Range : 0 ~3 m
Ring : Original # 4
Price : 2,100 yen (excluding tax) made in Japan

◆item description ◆
A shallow light model has appeared on the flying rod 130BR, which is active in all open oceans regardless of the field.
The weight is 8g lighter than the normal model, but the average flight distance is 90-93%. It is now possible to invite the shallow range to slow while maintaining the flight distance that is a big weapon. Floating feeling in situations where the flow is weak, slow capture that is conscious of the surface layer in night games, etc.
It is a powerful NEW weapon that completely covers the blind spots that the normal model could not handle.
Also, although it is a sinking swimmer who puts a lot of effort into feeding, the effect is great even with skipping aiming for blue-backed fish on the calm day.
By properly using the normal model according to the situation, the world of long-distance capture of the open sea will surely expand.
◆ Spec ◆
Length : 130 mm Weight : 30g
Type : Slow Thinking
Action : W variable rolling swing + back roll fall
Hook : Original MMH #4 Ring : Original #4
Price : 2,100 (excluding tax)  made in Japan